OFIYAA TRI(triple)-SCREEN
Free, Fast Shipping
Warehouse in Cailifornia. Delivery within the continental U.S.
Shipping
Enjoybot offers free shipping and ships online orders within the continental U.S. We do not ship to Hawaii, Alaska and P.O. Boxes.
Estimated delivery in 2-7 business days after processing. Orders with multiple items may be shipped in separate packages to speed up delivery.
Enjoybot Team
Free Shipping Worldwide! Shipping Time about: 5-15 business days.
It uses 12-inches, 16:9 FHD high-definition display with a resolution of 1080P/60HZ (1920*1080P), which is closer to the laptop screen, ensure that everything you see is clear.
OFIYAA's built-in stand can be adapted to the 13 inches -16.5 inches less laptop shell, and each screen can be individually adjusted to set the display parameters.
Works on almost ANY laptop: universal attachment makes it simple to attach to any laptop.
Extremely compact & portable: so slim it can stay on your laptop even when you aren't using it.
Remarkably lightweight at only 2 pounds: it weighs less than half of a standard laptop.
Compatible with every OS: No matter the OS you run, it's consistent. (Mac, Windows, Linux, Chrome, etc.) 
OFIYAA: Portable Triple Screen Laptop Workstation
Instantly add two screens to any laptop and boost your productivity while working anywhere.
OFIYAA is a multifunctional and portable dual screen laptop monitor, which allows you to build your personal mobile workstation quickly. OFIYAA is well-designed as a productivity tool which can turn your one-screen laptop into a triple-screen one. Thanks to our technical team, they combined two nice screens together. This means OFIYAA can improve your work efficiency by 50%.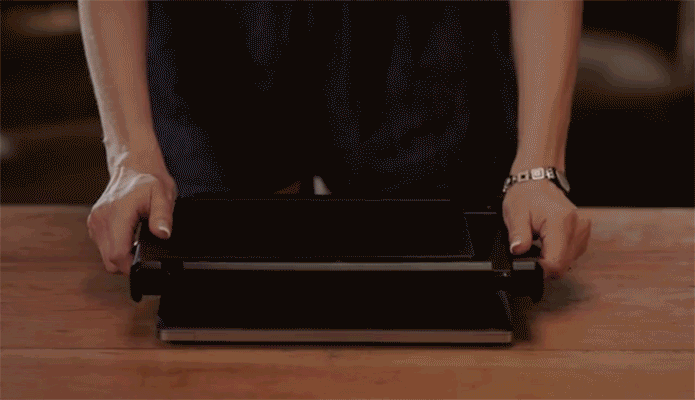 Why OFIYAA
While working on our laptop, 2 seconds per minute would be wasted by switching between windows and applications. File errors, data confusion, program crash can always make users go crazy!
An external display is not only hard-installing, but also not portable. So trust in OFIYAA, a multifunctional, handy, low-priced mobile dual screen monitor. Your time and money should not be wasted or dealing with so many complicated external devices!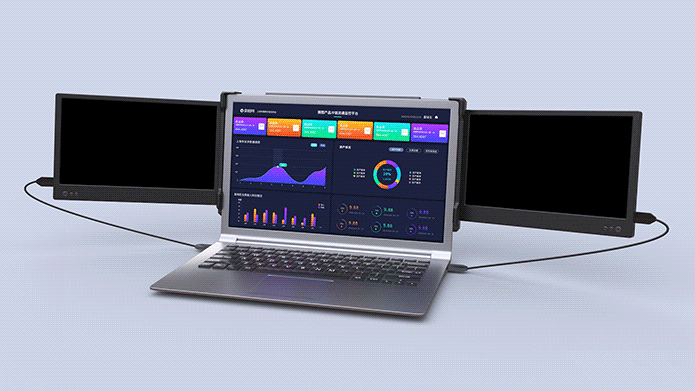 Multiple Display Modes
OFIYAA is multi-mode. You can choose to display the same or different content on your three screens. Also, you can connect other external video input devices, which means OFIYAA can handle multiple situations in your daily life.
Applicable operating systems: MacOS/Windows/Android/Chrome/Linux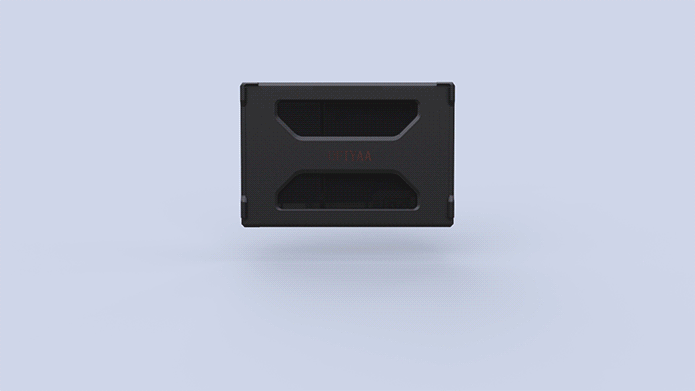 HD Display For A Wide Range Of Applications
OFIYAA fits 13-17 inches laptop. What's better is that the two screens can adjust parameters separately. OFIYAA carries two 11.6 inches/12 inches 16:9 FHD high-definition display with a resolution of 1080P/60Hz (1920*1080P). With these nice screens, you can run all kinds of software on all three screens at a very nice picture quality. No matter you want to do painting, 3D modeling or just watch a 1080P video. OFIYAA can afford all your needs.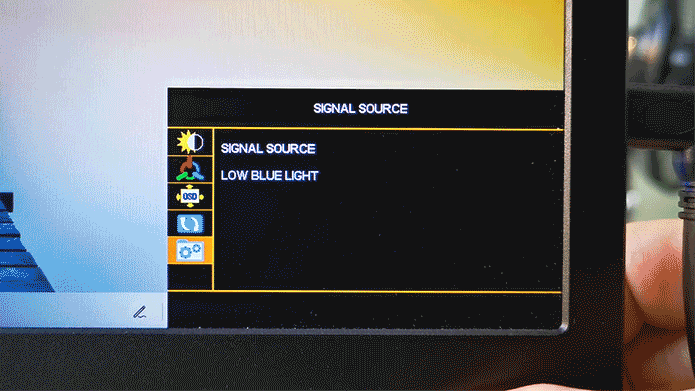 Adjustable Screen Parameters
As was said before, the screen parameters of each screen can be adjusted separately. The adjustable parameters include brightness, color, scene mode , DCR(Dynamic Contrast), Sharpness, HUE, saturation, backlight, color temp, language, ASPECT, auto powerdown, wide dynamic mode, volume, etc. Totally 30 adjustable parameters.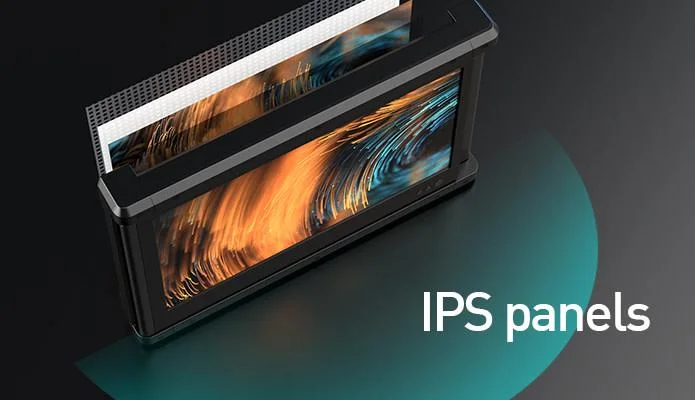 High Brightness & Energy Saving
Two 220 CD/㎡ brightness, matte Wled backlight, IPS panel wide viewing angle technological screen can insure a wide-angle view. This means you can enjoy a great sight at multiple angles without distortion. Also, OFIYAA has an Energy Star Rating level, so it will consume very little power of your laptop. A single screen power is 5 W, which makes sure you can have a longer use time even powered by your laptop.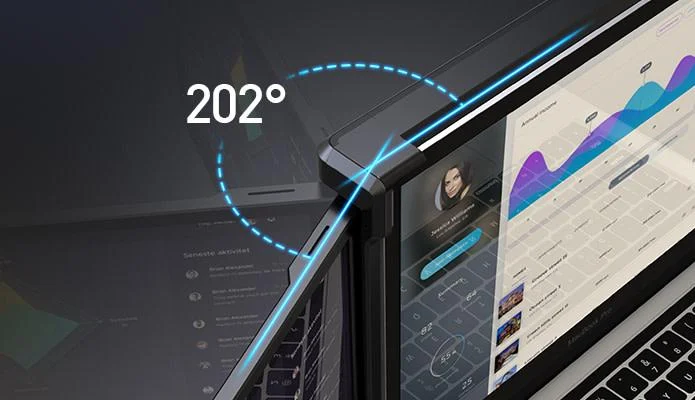 Foldable & Multi-View
The two screens has a large rotation angle of 202°. This means you can choose the best viewing angel in any situation. If you want two of your friends to watch at the same time. It can perfectly meet your need.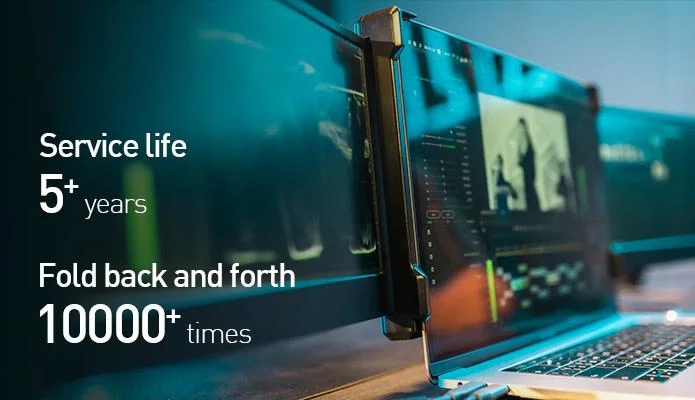 Durable & Wear-Resistant
OFIYAA is made of high quality industrial materials and can withstand the wear and tear of carrying with the laptop computers. It has passed 10,000+ times of repeated folding fatigue tests and can be used for at least 5 years or longer.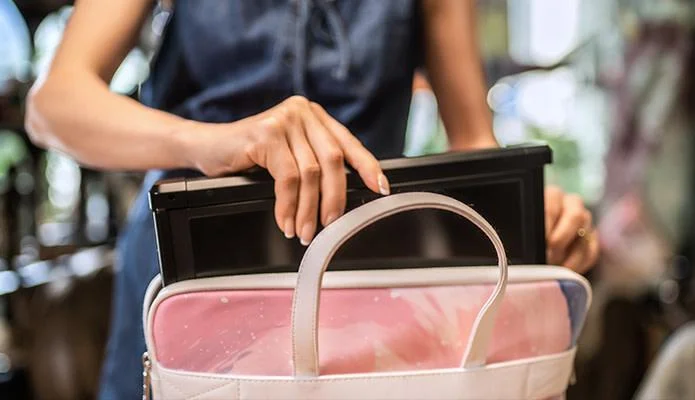 Compact & Portable
With 2.93 pounds weight and 315*215*39mm size. OFIYAA has the similar weight and size as your Macbook Air. Of this specification, you can easily carry it in your backpack. Imagine you have a complete personal workstation in a coffee shop. Wow, that's cool.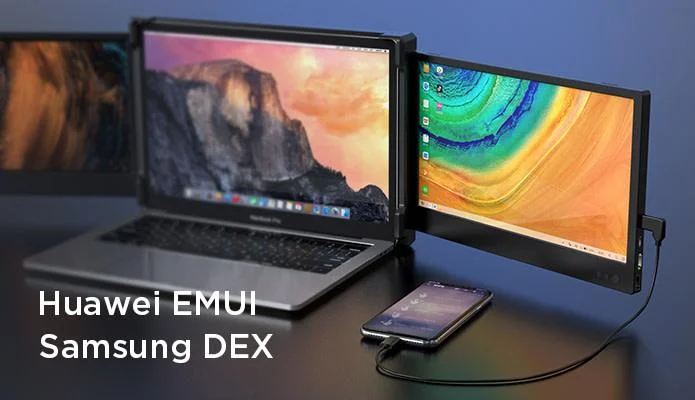 Mobile Phone Projector + Microcomputer
OFIYAA can not only connect to a computer, but also a mobile phone through Type-C to realize the conversion of mobile phone mode/computer mode, so that the mobile phone can become a computer in a few seconds. After connection, the content displayed by the mobile phone can be projected on the screen, or the mobile phone can be used as a microcomputer to operate on the screen like a computer. Currently, this function supports Huawei EMUI and Samsung DEX.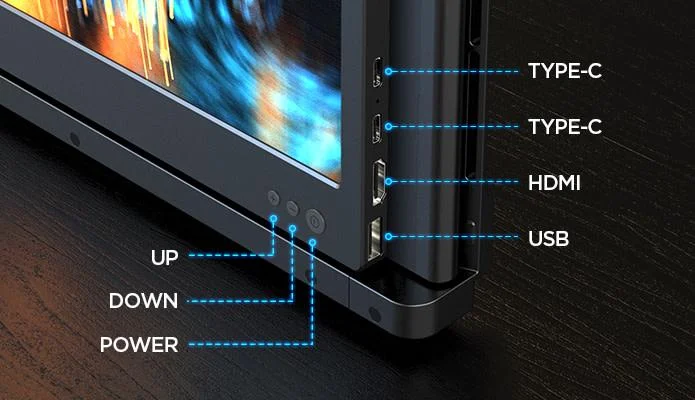 Powerful Scalability
OFIYAA is equipped with USB/HDMI/TYPE-C*2 port, as long as it is a TPYE-C laptop with a signal + power supply combo, OFIYAA can achieve a one-line connection display. The multi-port setting allows OFIYAA to charge and video display at the same time. This means OFIYAA can meet the needs of long-term applications. Meanwhile, OFIYAA can be equipped with various power-consuming external devices, the screen can provide power, and you do not need to connect various cumbersome chargers.
Great Value
OFIYAA surpasses the functions of two monitors, and the crowdfunding price is lower than other display devices. The 1 + 1 screen combination is more powerful than any monitor. This cost-effective mobile workstation will become an indispensable multifunctional display device in your life.